Sophisticated Ladies
Diana Krall, Melody Gardot, Norah Jones, Cassandra Wilson, Renee Fleming and Ruth Cameron in a hi-demand production with abslolute sound quality!!
The new release by Quartet West, Sophisticated Ladies, not only finds the group with a new drummer (Rodney Green), but as well in the company of some of the greatest female vocalists of our time - Cassandra Wilson, Diana Krall, Melody Gardot, Norah Jones, Renee Fleming and Charlie's wife, Ruth Cameron.. Available in 24/96 from hdtracks
This is a very different kind of Quartet West album. Charlie Haden's long-established institution is augmented by, decorated and engorged with, a series of female songbirds, gathered together on a mission of emotive ballad interpretation. Pianist Alan Broadbent is also conducting a string orchestra, utilising his own wide-vista arrangements. The instrumentals alternate strictly with the vocal numbers, and the mood is mostly one of deeply submerged romance. The stance is a wholly nostalgic surrender to the days of sweetly melancholic relationship-doom..
The song selections frequently lie down at the less frequented end of the street. The album is a sequel to The Art of the Song, Quartet West's 1999 project. There were two recording sessions, in Los Angeles and New York City, each employing a different string orchestra..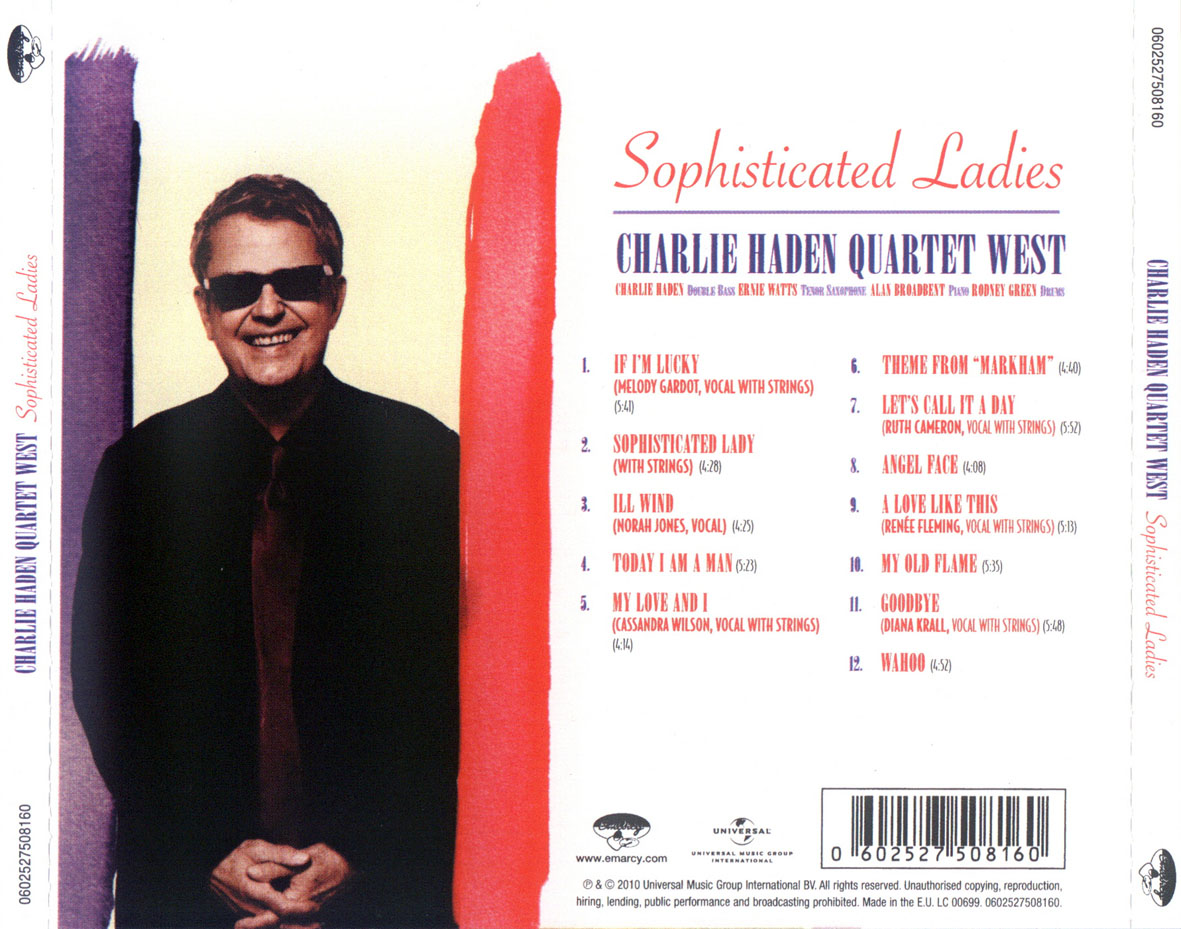 Melody Gardot is at her most dignified with a haltingly breathless enunciation of If I'm Lucky. A thoughtful, measured piano solo is followed by a tender tenor saxophone statement by Ernie Watts. Norah Jones sounds more immediately close to the microphone on Ill Wind, lazy and almost ghostly. The spectre of her voice peeks through a smoky veil. The deep mahogany tones of Cassandra Wilson infuse My Love and I with an intensified slow drift that washes into a bass solo before resuming its processional pace. Haden is limned by a halo of string-blooms. For this recording, a set of Johnny Mercer's lyrics were exhumed, and used for the first time on this previously instrumental number.
In the instrumental camp, the title-track is lusciously afloat with strings, then picks up its pace as new band member Rodney Green's drums drive more firmly, and Watts solos with gusto. Today I Am a Man is handled by the unadorned quartet, with a necessarily more compressed sound. It's dense and brisk, with all of the members pointedly delivering their solos. Angel Face (penned by the recently departed Hank Jones) is marinated in noir juices. My Old Flame is another purist Quartet West interpretation, prefaced by another Haden bass solo. After all this, the closing Wahoo provides a chirpy antidote for the lovelorn.
Haden has managed to entice some of the most renowned jazz songbirds in the world, and their combined efforts are cumulatively sombre, with a frisson of bittersweet fatalism. Sometimes this build-up can establish a cocktail lounge atmosphere, but in most cases its emotional resonances hover on the right side of poignant.